OAEC I.T. Association
Meeting Minutes
07/09/2018
Call to order
Don Pak called to order the regular meeting of the OAEC I.T. Association at 11:02 on 07/09/2018 on conference call.
Roll call
Don Pak conducted a roll call. The following persons were present: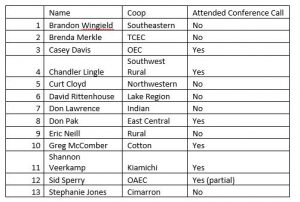 Don Pak read the minutes from the last meeting. The minutes were approved as read.Approval of minutes from last meeting
Open issues

Brenda will send out agenda
Have no open spaces left on agenda
Donovan Farrell needs rental car
Nathan Sweaney will reduce rate if bypass vendor fee?
Cannot guarantee Top Golf without deposit. Greg and Chandler to verify funds in the bank account to move forward.
Director of Administrative Services Kirby Mills requests to be on checking account if OAEC has to write a check for us. Brought to a vote all was in favor and Greg will get her added to the account.
Hotel information for aLoft was brought up and decided to continue holding meeting at Statewide.
Decided we would not provide transportation to or from Top Golf.
Casey will set up a block of rooms at the Embassy Suites.
Donations from Coops for prizes will be on the registration form
Sponsorship packages Casey will reach out to the vendors that were interested
Dell tour confirmed must call before we arrive with a head count day of.
CC payments available on website for registration
MC/Host Brenda
Next meeting July 30, 2018 via conference call at 11:00am Brenda will be asked to send an invite.
Adjournment
Don Pak adjourned the meeting at 11:32.
Minutes submitted by:  Shannon Veerkamp
Minutes approved by:  Casey Davis